Crutches are also the popular walking aid equipment helping people who are unable to bear your full weight on one leg due to an injury or surgery. Normally, people usually choose between forearm crutches and armpit crutches according to personal needs. Our heavy-duty bariatric forearm crutch is a pair of height-adjustable, ergonomic, certified for up to 180kg. The other typical metal armpit crutch features a built-in metal ring that helps prevent excessive wear and ensures maximum durability. Both of them have non-flip rubber tips at the bottom to ensure safety and reliability.
In addition, we have brief advice about how to correctly use crutches.
1. Adjust the crutches to a comfortable height
2. Ensure the holding gesture is right
3. Make exercise to use the crutches help you walk and sit
4. Lead with your good foot when you go up stairs
5. Go down stairs with your injured foot in front of you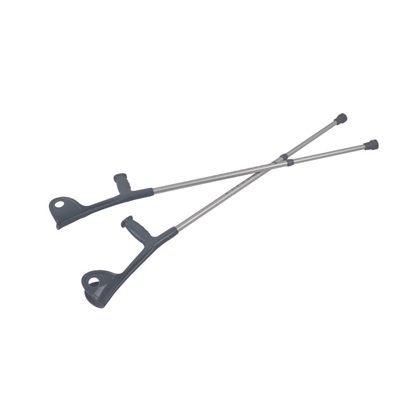 Este accesorio vertical de metal ajustable se usa para ayudar a una persona discapacitada a caminar sola. Este brazalete recubierto de vinilo y ergonómicamente contorneado está moldeado para mayor comodidad y estabilidad. Las personas pueden ajustar fácilmente las secciones de piernas y antebrazos para encontrar a una persona en una posición cómoda y conveniente. Las puntas extra grandes proporcionan mayor estabilidad a la muleta. Además, tenemos 2 tipos diferentes de muletas a la venta, la muleta de la axila y la muleta del antebrazo disponibles. Puede encontrarlo fácilmente en nuestro sitio web.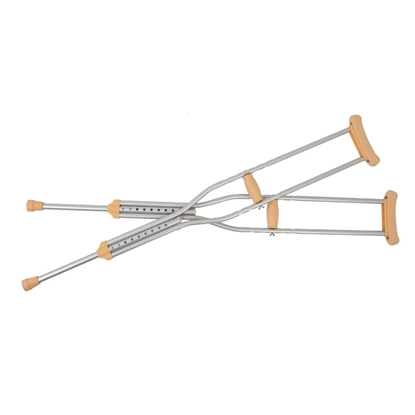 Esta típica muleta de metal en la axila está construida en un anillo de metal que ayuda a prevenir el desgaste excesivo y garantiza la máxima durabilidad. Está hecho de material de alta calidad para evitar la resistencia a la abrasión. Presenta diseños ergonómicos que lo hacen ideal para que las personas se sientan cómodas y convenientes durante la caminata o la rehabilitación.