Crutches are also the popular walking aid equipment helping people who are unable to bear your full weight on one leg due to an injury or surgery. Normally, people usually choose between forearm crutches and armpit crutches according to personal needs. Our heavy-duty bariatric forearm crutch is a pair of height-adjustable, ergonomic, certified for up to 180kg. The other typical metal armpit crutch features a built-in metal ring that helps prevent excessive wear and ensures maximum durability. Both of them have non-flip rubber tips at the bottom to ensure safety and reliability.
In addition, we have brief advice about how to correctly use crutches.
1. Adjust the crutches to a comfortable height
2. Ensure the holding gesture is right
3. Make exercise to use the crutches help you walk and sit
4. Lead with your good foot when you go up stairs
5. Go down stairs with your injured foot in front of you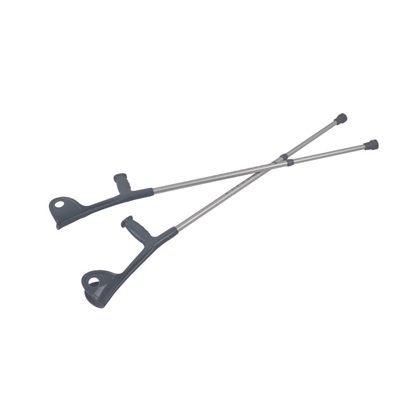 Cet accessoire vertical réglable en métal est utilisé pour aider une personne handicapée à marcher seule. Ce brassard revêtu de vinyle et à contour ergonomique est moulé pour plus de confort et de stabilité. Les gens peuvent facilement ajuster les sections de jambe et d'avant-bras pour trouver une position confortable et pratique. Les embouts extra-larges apportent une stabilité accrue à la béquille. En outre, nous avons 2 types de béquilles en vente, la béquille à aisselles et la béquille à l'avant-bras. Vous pouvez facilement le trouver sur notre site Web.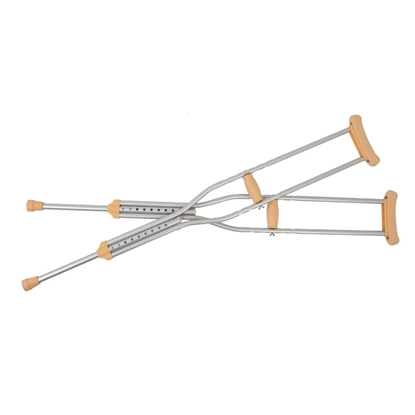 Cette béquille à aisselles en métal typique est construite dans un anneau en métal qui aide à prévenir une usure excessive et assure une durabilité maximale. Il est fait d'un matériau de haute qualité pour éviter la résistance à l'abrasion. Son design ergonomique le rend idéal pour que les personnes se sentent à l'aise et pratique lors de la marche ou de la rééducation.