Air Pressure Mattress is a hospital-grade bed equipment that is designed for the prophylaxis and treatment of pressure ulcers. It comes with alternating pressure technology with low air loss to slightly move the patient, and help them get optimal performance and comfort.
The anti bedsore air mattress makes the most of the adjustable air cushions to reduce painful pressure and allow blood flow to all areas of the body. Moreover, the low air loss function provides air circulation to prevent heat and moisture build-up as it protects the skin. With both of the two therapies, the medical air mattress can effectively help patients prevent, or even heal from the bedsores. 
This hospital-grade alternating mattress fits easily over any hospital bed. And it is also suitable to use at home bed, especially for the people who have to stay in bed for a long time.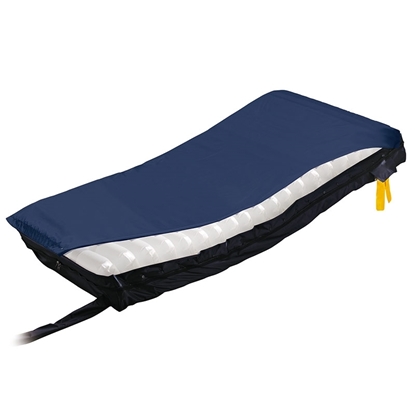 Ce produit utilise une surface qui déplace la pression au besoin pour que le patient soit à l'aise et moins susceptible de se sentir irrité pendant le traitement. Le matelas en PVC est composé d'une douzaine de cellules à bulles, ce qui est particulièrement confortable pour les patients. Il est facile de le fixer en faisant des rabats supplémentaires à la fois en haut et en bas du lit. La pompe peut être suspendue au bout du lit avec 2 crochets.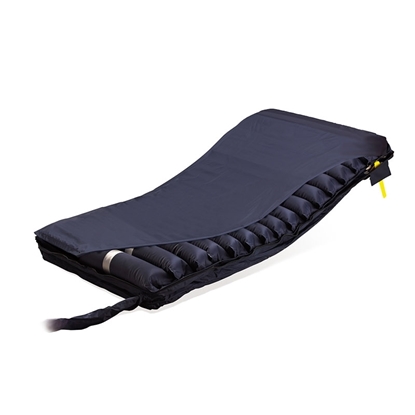 Ce matelas à pompe à air est destiné à la prophylaxie et au traitement des ulcères de pression. Il utilise un système de traitement à faible perte d'air pour garder le patient au frais et au sec pendant le processus de guérison. Il utilise également différents niveaux de pression selon les besoins pour permettre la redistribution afin d'empêcher les ulcères de pression de se développer autour du corps. En outre, les coussins d'air peuvent être ajustés individuellement en fonction des besoins de confort du patient.