Air Pressure Mattress is a hospital-grade bed equipment that is designed for the prophylaxis and treatment of pressure ulcers. It comes with alternating pressure technology with low air loss to slightly move the patient, and help them get optimal performance and comfort.
The anti bedsore air mattress makes the most of the adjustable air cushions to reduce painful pressure and allow blood flow to all areas of the body. Moreover, the low air loss function provides air circulation to prevent heat and moisture build-up as it protects the skin. With both of the two therapies, the medical air mattress can effectively help patients prevent, or even heal from the bedsores. 
This hospital-grade alternating mattress fits easily over any hospital bed. And it is also suitable to use at home bed, especially for the people who have to stay in bed for a long time.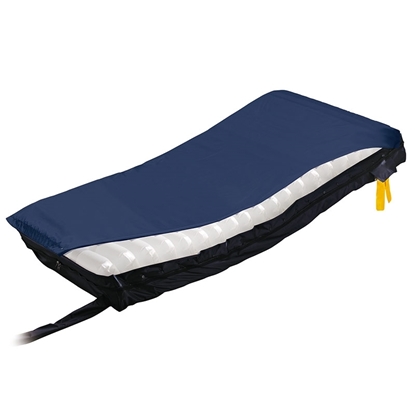 Este producto utiliza una superficie que mueve la presión según sea necesario para mantener al paciente cómodo y con menos probabilidades de sentirse irritado durante el proceso de tratamiento. El colchón de PVC está compuesto por una docena de células de burbujas, lo que es particularmente cómodo para que los pacientes se acuesten. Es fácil de reparar haciendo solapas adicionales en la parte superior e inferior de la cama. La bomba se puede colgar hasta el final de la cama con 2 ganchos.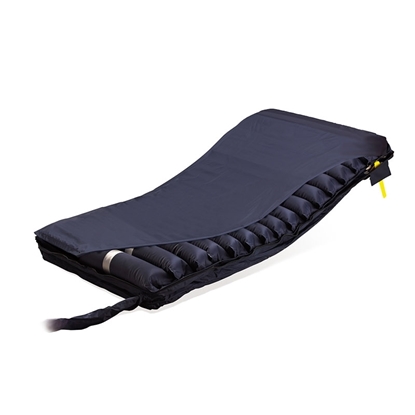 Este colchón de bomba de aire está diseñado para la profilaxis y el tratamiento de úlceras por presión. Utiliza un sistema de terapia de baja pérdida de aire para mantener al paciente fresco y seco durante el proceso de curación. También utiliza diferentes niveles de presión según sea necesario para permitir la redistribución para evitar que se desarrollen úlceras por presión alrededor del cuerpo. Además, los cojines de aire se pueden ajustar individualmente según los requisitos de comodidad que pueda tener el paciente.